Looking to get on the sweet sweet 360º content wave that's currently spreading through social media? Facebook, YouTube and Twitter all let you post 360º content, but what's the best tool for making these immersive experiences?
If you're going big budget there's some serious kit for creating 360º content. But if you're reading this, I'm guessing things like the Z Cam S1 (at $2499) and the Panono 360 (at £1685) are out of your budget range. Small, in house content teams just can't lay down that kind of cash on equipment for untested content.
People wanting to get started on 360º content without the big bucks are going to need to look at the entry level equipment available. There are quite a few different cameras out there, and two that have made some of the most noise are the Insta360 Air (or Nano if you're an iPhone person) and the Ricoh Theta S.
But which one is best? Time for a test. And not a laboratory conditions style test. No, time for a real world, short on time small social media content team experience style test. You know, where the conditions are far from perfect, you're doing things on the fly and there's not been much time or money to spend on things.
First up, lets look at how the two stack up on the stats
The stats
Insta360 Air
Ricoh Theta S
Price
£150
£299
Max image resolution
3008 x 1504
5376 x 2688
Max video resolution
2560 x 1280 30fps
3008 x 1504 on some phones
1920 x 1080 30fps
Minimum aperture
F2.4
F2.0
ISO range
?
100 – 1600
Weight
26.5g
125g
Live stream
Yes (mobile)
Yes (with laptop)
Storage
Uses phone
8GB
Those are the main numbers, but what does it look like in real life? I put the two in the same situation to find out. A conservatory on a pretty sunny day, filming me flapping my arms – some quality social content I'm sure you'll agree.
Video quality
The following videos were shot from the same location, within minutes of each other to keep the light as consistent as possible. I've used YouTube as an example as Facebook's compression on 360º videos can make even the best content look rubbish.
Make sure you set your YouTube player to the maximum resolution to get the best effect.
Ricoh Theta S

Looks pretty crap right? Especially since the promo stuff says it films in HD. While technically not a lie, it is a 1080 resolution, when you curve that round the 360º globe, it reduces the resolution significantly to this washy mess.
Insta360 Air

Although not super crisp, it's definitely more "HD" than the Ricoh. There also is an issue with the stitching where the two lens outputs are joined together.
There also is an issue with my moving arms "smearing". I've done other recordings with lots of movement where this didn't happen so it was potentially a glitch in the recording rather than camera issue, as you can see from this video of me on a swing (I know, some seriously amazing content in this post)(pps I have a child so have a legitimate reason to be hanging out in a play park honest).
Still, that's not ideal if you've only got one shot at what you're filming.
Image quality
Facebook is the only network that lets you post 360º images at the moment, which means both these test images lose quality due to Facebook's super compression. But it gives you a real world example of how the content would look. The Insta360 is on the left, the Ricoh is on the right.
You can really tell the Ricoh's has over twice as much resolution for still images. When you look at the images without Facebook's compression it's even more apparent.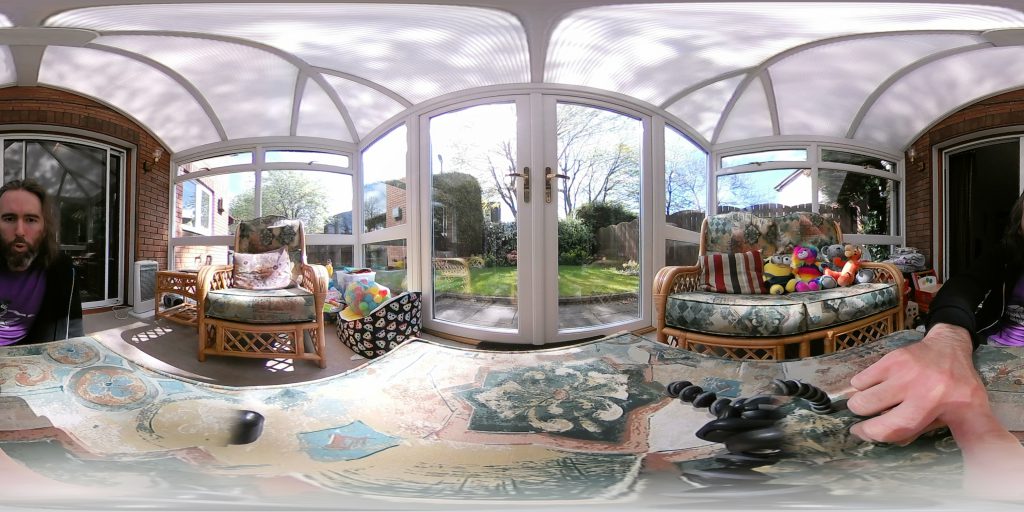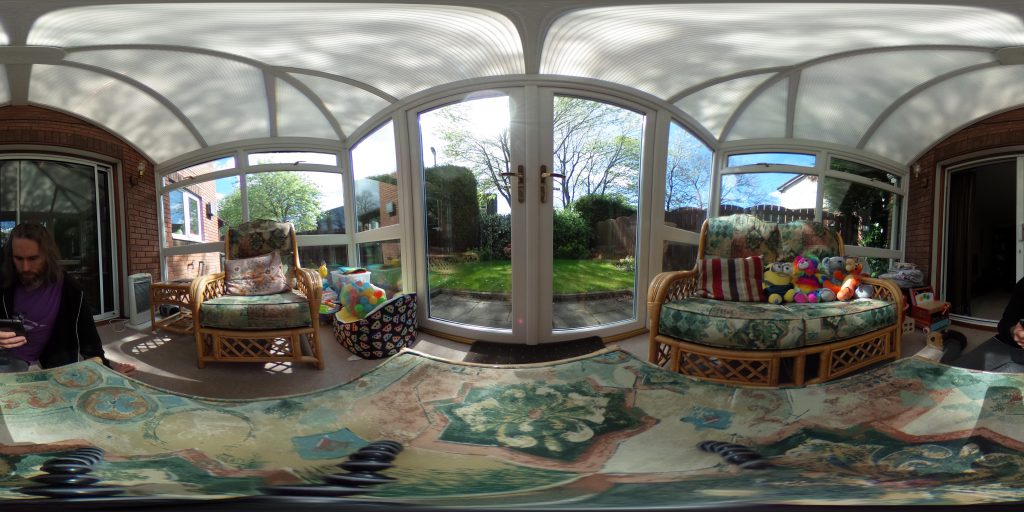 The Insta360 also adds purple fringes around the edges of objects, and like the video, has some issues on stitching.
Other points
That's what content from the two cameras look like. But there are a few other things that need considering too.
Connection
You can technically use the Ricoh without any phone in sight. Just use the big button on the camera and let it do its thing. You then plug it in to your computer via USB to get the content later.
With the Insta360 you have it connected to a phone or computer to work.
Manual mode
If you like to be in control of your camera settings, you'll like all the things you can alter with the Ricoh. You can change shutter speed, ISO and exposure compensation.
With the Insta360 you have to leave it all up to the app, other than exposure compensation.
Interval timer
Want to do some sweet timelapse 360 content?
Then you'll love the Ricoh as it lets you do intervals from 8 seconds to over a minute all in 5k. The Insta360 on the other hand just doesn't have that option.
Live streaming
Both cameras say they let you live stream in 360º, and like the Ricoh's HD video claim, that's not technically a lie. But, the Insta360 wins hands down in this category as it lets you stream on the move where ever you've got a decent internet connection on your phone.
With the Ricoh you've got to be wired in to a laptop or desktop computer and be using software like OBS.
You can also connect the Insta360 to a computer via the supplied USB cable to use with OBS, but the fact you can do live streaming on mobile is a pretty strong selling point for the camera (that and upping your 4G data allowance).
The verdict
That's how the two cameras stack up, but which one is the real winner when it comes to budget 360º cameras for social media content? Well I guess that depends on what you want to do.
If you want to take high quality still images in 360º it's the Ricoh Theta S without a doubt. If you want to film HD 360º video content, it's the Insta360.
If you want to do timelapse, it's the Ricoh Theta S. If you want to do mobile live streaming, it's the Insta360.
So if you want to create a range of awesome 360º content, you're going to need to get both ¯\_(ツ)_/¯
Want to buy one
I bought the Ricoh Theta S and the Insta360 Air off Amazon so if you want either or both, that's always a good place to start looking. Here's how much they cost at the moment.