This week's Social Media Fail comes from one of the biggest media companies in the UK, the BBC and could costs them a lot of money.
I'm a fan of the BBC and think the majority of their radio output is some of the best in the world. What's more, they've really gone all out to embrace social media as a way to enhance their engagement with their audience. Which makes this particular fail all the more epic.
Putting the Social Media Fail in context
Let's put it in context. Greg James does a ground breaking feature on his Radio One show called the 10 minute take over. Basically, it's a request hour condensed in to ten minutes (because in this day an age, nobody is allowed to digress too far from the hyper researched playlist).
To make this feature more "social" they ask for requests through the main social media channels including the Radio One Facebook page. And, as any brand with a bit of Facebook knowledge, they make give the request post an image, cause loads of research shows that boosts engagement rates.
Up to speed? OK, so here's today's post.
The Social Media Fail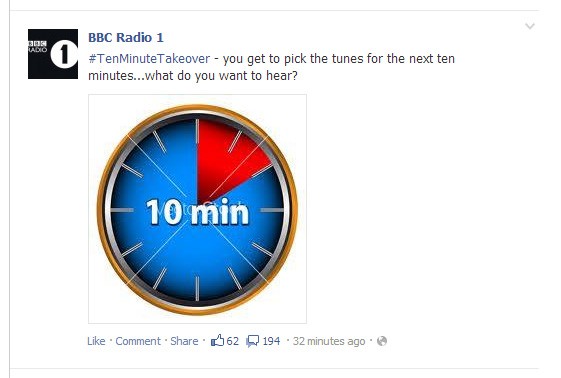 What do you mean you can't you see what's wrong? Look a little closer
That would be a stock image with watermark intact right there. Which would suggest they've "borrowed" the image off Google search. Essentially, they've stolen the image and used it without permission. Granted it's no Sachsgate but still, not the best example for a content producer to be setting!
What can you learn from this?
Other than even big companies with huge resources for content production and dedicated social media DJs break copyright law? Well, basically it's make sure you get your images from legitimate sources and you credit people where credit is due.
You might get away with taking images off Google Image Search without contacting the source for permission first, but it can be an expensive risk to take. Especially if you're getting world wide exposure with your huge engagement rates. And if you are going to steal images, make sure they're not watermarked!
But if you are going to steal, don't forget people can use things like TinyEye to find out if your image really is an original or if you've nicked it from somewhere else.
If caught, stealing comes with a price. Big companies can pay legal bills, but can you?
There are tonnes of stock image websites out there offering graphics for all budgets. And if you don't have the money to cover the cost of stock images, make them yourself with an online tool like Sumo Paint.
Don't have the skills to make them yourself? Have a rethink of your content strategy and get in touch – as ever I'd be happy to help.