Today marks another day when Facebook quietly unleashed a new feature on their unwitting users. Unlike the new Facebook timeline, it's quite a subtle change. In fact you probably wouldn't even notice they'd brought in Facebook Moods if it wasn't for the fact a notification jumps in your face like an attention seeking child the first time you go to create a status. You definitely wouldn't notice if you don't use the desktop site, as it's not currently available in the mobile app.
But what is this Facebook Moods thing and should you really bothered? Well do you remember Myspace? Do you remember when you were creating a status on your garish, animated gif ladened, personalised teenage diary of heartbreak, you could put an emoticon to show people how you were feeling when you typed the words? Well it's basically that.
That's right, Facebook have stolen something from the site it killed.
How to use Facebook Moods Updates
To get started with Facebook Moods just click the smiley face you'll now find at the bottom of the status box, just to the right of the camera icon.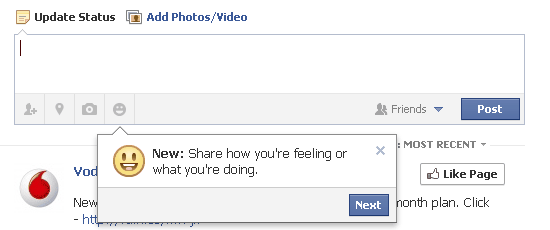 Clicking this will give you six options as to what you can be doing at this point in time.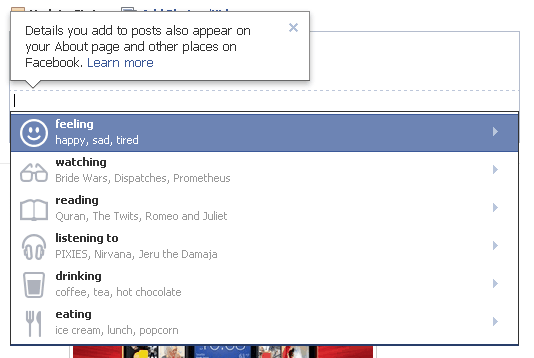 Please note "your mum" is not a viable option for any of these six activities
Once you've told Facebook what it is you're doing, you can go about your normal Facebook status updating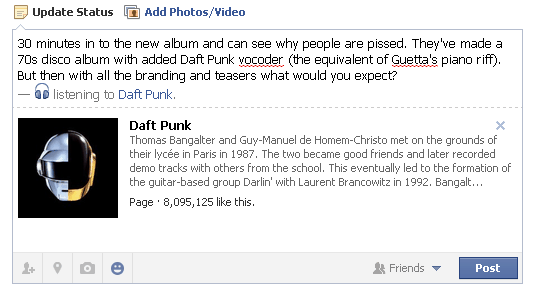 Facebook Mood updates and the new Daft Punk album – both are pretty pointless
And that's about it. The feature serves little purpose other than to add context to your status updates through a clickable link to an OpenGraph entry for what ever you're posting about.
Facebook doesn't automatically "like" the thing you've entered in the "mood field" or, in the case of my music post, add it to your timeline's music feed. No doubt behind the scenes though it's helping Mark Z and Chums build a more detailed profile of your life and feed their Graph Search.
Back in the Myspace days, adding an unhappy face to your status update seemed innocuous. However, we're now in the world of big brother Facebook. A more paranoid me would say it's a way for Facebook to create a profile of your serotonin levels to help advertisers (yes I know I'm one of them) target their ads. But that's just me being paranoid right?