Ah Valentine's Day, that magical time of year between Christmas and Easter that manages to keep card shops and chocolate makers in business. Love is in the air and couples around the world celebrate their relationships to avoid having to do it the other 364 days of the year.
As the dust settles on the deflated heart shaped balloons and discarded oversized teddy bears, I thought it would be worth looking at how universities and brands celebrated this wonderful holiday on social media. So here are the good, the bad and the ugly from Valentine's Day around the world of hashtag engagement.
Universities
Newcastle University
Top of the list because it's my team. This was the first year we decided to put some time and effort in to Valentine's Day and it involved two things – tiny little hearts and a 6ft lion mascot.
Our centre piece was a video shot in the morning then edited and published by lunch. We weren't sure how it was going to go, taking our lion mascot out with a "Free Hugs" sign, but from the video it look like it went all right.
Truth is, it was an hour walking around campus having our student population try their best to avoid us or just take photos from afar. But it got that all important comment engagement on Facebook with zero spend so winner right?
We also ran a heart hunt around campus to help get students involved on Snapchat:
The concept was simple. 20 hearts were hidden around campus for students to find. On the hearts was our Snapcode and a call to action to scan the code to find out how to win. Within minutes we started getting entries, which could then share to our story: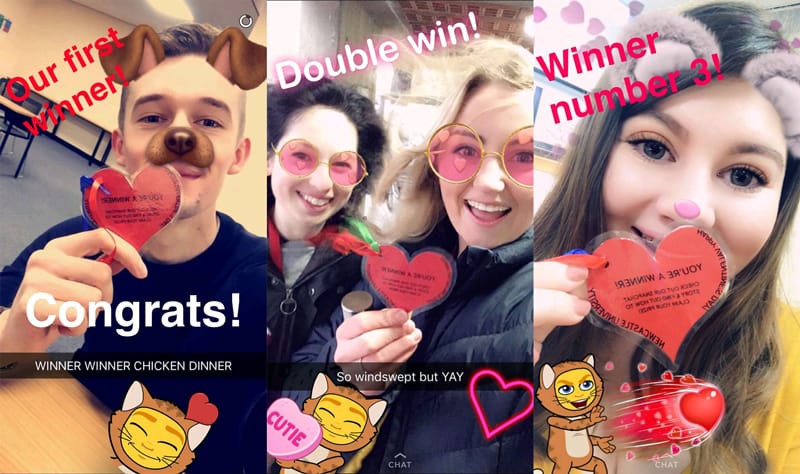 Simple but effective #engagement and because it had people sending us messages on Snapchat it should help give us a little boost in Snapchat's new algorithm tuned friend feed.
Loughborough University
The team at Loughborough did something awesome this Valentine's Day. Rather than get all loved up they did some seriously good work for their local community with their #heart2heart campaign.
What a day! #Heart2Heart has been a huge success across our campus, with students, staff, and community members getting involved.

We've now trained over 1,247 people to perform CPR. Here's a little video to round it up 💕 pic.twitter.com/xm1LZONz7B

— Loughborough University (@lborouniversity) February 14, 2018
Yup, that's right. They used Valentine's Day to train people to be actual real life lifesavers with the skill of CPR
What a massive moment for the students, staff and volunteers who took part in #Heart2Heart today…

1,479 people trained to perform CPR!

A huge thank you to everyone who took part 💕 pic.twitter.com/hAY9K4RH70

— Loughborough University (@lborouniversity) February 14, 2018
University of Glasgow
Like Newcastle Uni, the UoG team are fans of the quick video turn around game, they're also well know for their epic social led campaigns (check out their great way of doing student profiles with UoG Future World Changers).
On Valentine's Day the two combined for their tongue in cheek "world record attempt of the largest group hug in Scottish ancient university history"
Loads of comments and plenty of views, so another winner for the Facebook algorithm (although it would appear the team are less than happy with Facebook at the moment).
University of Sunderland
The team at Sunderland had been planning this video for a few months (full disclosure, I'm an alumnus so got the request to submit stories near the start of the year) and the planning paid off.
The asked for stories from current and past students that had met their partner on campus. Simple premise that produced a #engaging video for everyone with even a heart of stone to enjoy.
Obviously it would have been a better video if I was in it, but then I didn't meet my wife in Sunderland so would have been a stretch.
Cardiff University
Cardiff's Valentine's celebration showed you don't need to do a lot to get that #engagement. You just need some pretty pictures and a reason to get people commenting.
Plenty of long form comments on that post, which Facebook now loves, so that'll help them out in the algorithm game.
Brands
Innocent Drinks
These guys are one of the market leaders when it comes to Brandter. And luckily, they're pretty good at it. So it's no surprise they managed to keep things simple but #engaging on Twitter for a Valentine's Day that was right after Pancake Day.
It was Pancake Day yesterday. It's February 14th today. You know what that means.

HAPPY #VALENCAKEDAY pic.twitter.com/ZktHuAzXq2

— innocent drinks (@innocent) February 14, 2018
The ultimate content recycle.
Hallmark
You'd have thought one of the driving forces behind Valentine's Day would know how to celebrate it well on social. Let's take a look
Happy Valentine's Day! Share with the person who makes your ❤️ happy! #ValentinesDay pic.twitter.com/Gt2j03enL1

— Hallmark (@Hallmark) February 14, 2018
Ugh, dripping in schmaltz and using a call to action that isn't relevant to the social channel. Considering they have nearly 63,000 followers those #engagements are pretty poor.
Unilad
Now they're not allowed to run "tag a mate" posts, how would Unilad get that #engagement on social for Valentine's Day?
Ah right, taking a tired meme that was posted by another account. Classic Unilad.
Tinder
I've been out of the dating game for a very long time. But I understand all the cool kids that want to find love go swipping on Tinder. So how do they celebrate the festival of love?
#VdayandChill is now live! Tweet us what you want this Vday using only Emojis and the hashtag #VdayandChill. Tag and follow @Tinder and @Postmates on Twitter and check your dms! Must be 18+ and a resident of the U.S. Ends 2/14 https://t.co/rI2U9zLNYn pic.twitter.com/NkvI474Bg3

— Tinder (@Tinder) February 14, 2018
As the kids say, YASSSS. If you look at their timeline it's full of people tweeting about the cool stuff they got as part of the competition. #engagement levels through the roof and on brand. Ladies and gentlemen we have a winner (granted they have a huge budget and a sponsor that helped but still, nice idea).
And there you have it, that's how universities and brands did Valentine's Day in 2018 – maybe it's some inspiration for next year, or maybe you just need to go lie down in a room void of sickly love stuff for a week. It's your choice. But if you've seen any other interesting Valentine's Day celebrations on social media share them in the comments below.