The power of video is being pushed harder and harder by all the major social media networks. From straight up moving pictures, to live streams and 360º videos. It's an important content type to master, as the results speak for themselves (just check out at how video affects your Facebook organic reach).
But when it comes to engagement and views, which social media channel comes out top? Sounds like it's time for another experiment!
The plan
To test three of the main social media channels, I took three short videos, optimised for the target audience ('cause if you want your videos to perform well, first step is to make sure they're something your audience wants to see). These were then shared on Facebook, Instagram and Twitter and the big numbers recorded to see how they did.
The videos
The videos used were created for Newcastle University during their graduations. A big time of celebration for students and memories for alumni. They were short to keep the audience's attention, edited to grab attention and packed full of the "feels".
The footage was shot during the 2017 summer graduation season and edited together to share as part of Newcastle University's online celebrations.
The arches
The letters
It's been great seeing all our new grads celebrating in front of the #NCLgrad letters in the Quad – welcome to the @nclalumni family pic.twitter.com/L0HFLcOI9y

— Newcastle University (@StudentsNCL) July 12, 2017
The ceremony
The channels
The videos were shared on Newcastle University's student and alumni focused Facebook, Twitter and Instagram channels whose audience numbers looked like this, rounded to the nearest hundred:
Facebook – 92,000
Twitter – 17,300
Instagram – 19,500
The results
So how did the videos perform? Lets dig in to the numbers.
Reach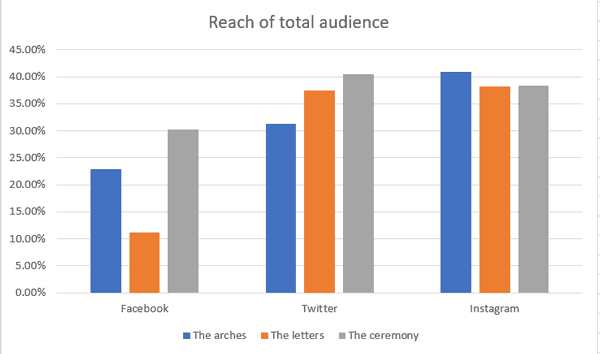 As you'd probably expect with all that's been said about their algorithm, Facebook performed the worst when it came to organic reach. However, the numbers were still much higher than average, showing how Facebook's algorithm loves a good bit of video.
Instagram came out on top with reach not dropping below 36% of total potential audience.
It's worth noting that Twitter doesn't like to give reach figures in its stats, so the graph above uses impressions for that network, which doesn't provide a direct comparison with the other two channels.
Video views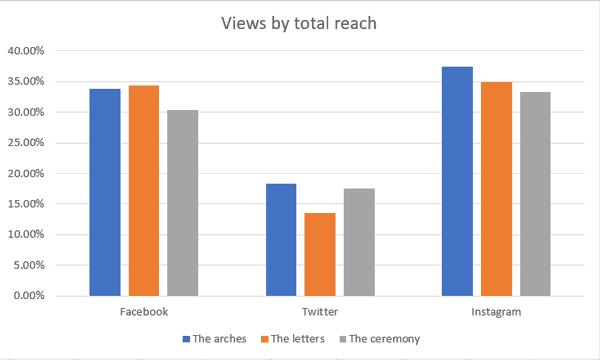 All channels used have the super awesome auto-play feature* and all class a video view as lasting at least 3 seconds so this is a decent side by side comparison.
Yet again Instagram comes out on top with Facebook in second and Twitter limping behind with less than 20% of accounts receiving an impression actually watching the video.
*it's anything but super awesome
Engagements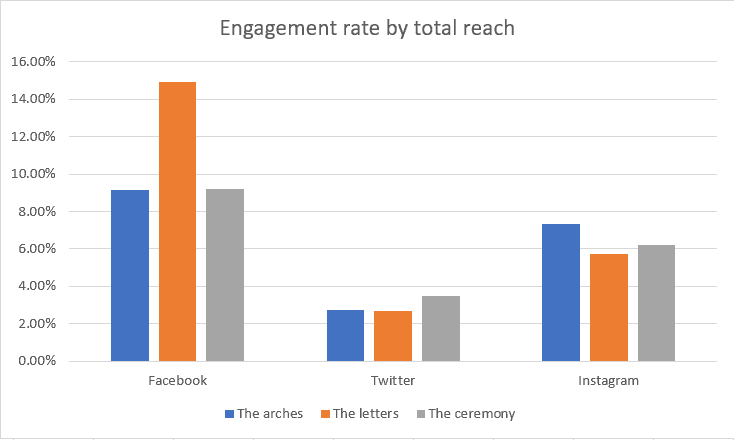 It's all well and good people watching the video, but are they giving any feedback on the content? With video autoplaying, views isn't always the best measurement of success. Getting people to react and engage with the content is a good way to gauge if they're enjoying what you're putting out.
With this measurement, Facebook is the boss – maybe because of the suite of engagement options available or maybe just because Facebook users like to like things. Twitter's engagement struggled to crack 3%, possibly a sign of how passive Twitter's audience can be when they're not out trolling.
One interesting side note on this is the engagement rate for "the letters" video on Facebook. By far the most engaging video, but when you look back at its overall reach, it was tiny compared to every other video.
Conclusion
So after all that, which social media channel performs best for video? The answer – a mixture of Facebook and Instagram depending on which metric matters the most to you.
Twitter tries to compete, but like in so many other areas, it just can't beat Zuckerberg's behemoth.